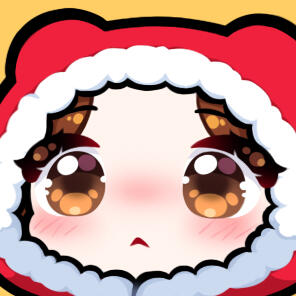 Triseptimo
Hello!
I'm a digital artist mostly focused on drawing stuff for streamers. This site will help you to find all information you need for commission.Now you are on the home page.
In tab commission info you will find the estimated pricing for all commission services I currently offer. The final price is formed individually for each commission.
In how to commission section you can explore a step-by-step guide on how to compile and place an order.
In tos (terms of service) you can read the rules and regulations regarding commissions.
And portfolio will show you examples of my relevant works.
🎁 🎄 10% off for christmas themed commissions 🎄 🎁
emotes
$30 USD
$85 for 3 ✦ $170 for 6 ✦ $280 for 10 (stackable)
+ $10 complex character design
+ $10+ to edit already drawn emote
+ $15 additional character
+ 25% to amount if photo reference
✦ 300x, 112x, 56x, 28x sizes PNG, sticker size is not included
✦ price can be changed depending on complexity of design
animated emotes
$55 USD +
$55 simple ✦ $60-65 normal ✦ $70+ complex
✦ price includes both emote and animation
✦

$30+

to animate an already drawn emote (without separated layers)
✦ 300x and 112x sizes GIF, sticker size is not included
✦ price can be changed depending on complexity of animation
badges
$25 USD
+ $15 minor edit
+ $10 repeating design with color edits
✦ 72x, 36x, 18x sizes
🎁 🎄 10% off for christmas themed commissions 🎄 🎁
snowball fight
$50 USD one ✦ $80 USD both
+ $15 complex character design
+ $5 to change outfit color
You can order it as a paired emote with a friend, or order both emotes for one character
✦ 300x and 112x sizes GIF, sticker size is not included
spinning chair
$85 USD
+ $15 complex character design
+ $35 non-human character*
custom chair coloring for free
the shape of the chair don't change
✦ 300x and 112x sizes GIF
* if your char has ears, horns etc. it's still count as a human
arms dance
$50 USD
+ $10 complex character design
✦ 300x and 112x sizes GIF, sticker size is not included
General:
✦ I don't draw in any other styles than my current one. Please, check out examples of my recent works before commission. You can find it on my Twitter or portfolio.
✦ Don't use my artworks for AI/NFT purposes.
✦ I don't sign any contracts provided by clients, I only work in accordance with my Terms of Service, which the client agrees to by filling out my commission forms.
Payments and refunds:
Dear customers, I will no longer use PayPal as one of my primary payment method, because I'm not allow to use buisness account and send invoices, so customers can send me payments only directly through "Friend and family" option which I'm not comfortable with. But I will keep PayPal as a fallback payment method if you're not able to use Payoneer for any reasons (you don't have credit card etc.).
Note, if you will be using PayPal, l will add 5% fee to commission price due to double conversion.
✦ All prices and payments are in USD.
✦ I accept payments via Payoneer:If it's your first time using Payoneer, you need to follow the invoice link I will send on your email and complete a quick registration before paying the invoice: to put your name, phone number and password. After that, you will need to fill out some data in the invoice like credit card etc. To put your real name is optional.
The transfer fee is 3%. PLease, choose to pay a fee at your own expense.
IMPORTANT: All the data that you provide in the invoice are confidential and I don't have access to this information, except for the full name, if you specify it.✦ PayPal is a fallback payment option in case you're not able to use Payoneer.
✦ Price can be changed depending on complexity of work.
✦ You will be added to the queue only after full or half payment has been sent.
✦ If I do not receive the payment within 72 hours (3 days), your slot will be given away.
✦ Half payment available for commissions $200 and over.
✦ The second half of the payment must be sent after the sketches have been approved.
✦ Refunds after the commission has been started isn't possible.
✦ If you don't respond in commission process within 14 days and didn't warn me before, I reserve the right to cancel your commission with no refunds.
Rights and licenses:
✦ All commissioned works intended only for personal non-commercial use.
✦ You do not need to have commercial rights to use emotes and badges on Twitch, Discord etc., as this is their direct purpose and is not considered a sale.
✦ You have no rights to use commissioned works for your profit (merchandise or resale) without my permission. Please, reach out to me if you would like.
✦ To use commissioned artworks commercially, you need to pay extra 100% to amount price of commission for Commercial License.
✦ You or the artists you commission have no rights to edit my work (animation is also editing). If you would like to edit something (change clothes, colours, animate etc.), you need to commission me again for edits.
✦ You have no rights to repost my work on any social media without credit.
Time frame:
✦ Regular wait time depends on your place in the queue.
✦ I can give you only a rough ETA of your commission.
✦ If you want your commission to be a priority, you need to pay a rush fee of 50% of the commission price.
✦ If due to personal or technical reasons I cannot complete your commission in time, you willl be informed as soon as it possible.
1. So, if you want to commission me, the first thing you need to pay attention is the "commission status". If it is "closed", it means that at the moment the queue is full, therefore I am not taking commissions at this time. You need to wait until the status changes to "open".
However, if you see commission status is open, everything is okay and you can safely proceed to the next point.
Usually I don't take commissions when the queue is already full a month or two ahead. You can follow the changes of the status both on this site and in my Twitter account where I will notify about any changes. You can also contact me there if you have any questions.
2. I guess you have already checked examples of my works and read Terms of Service carefully. If everything suits you, you can proceed to fill out the commission form.
3. After you filled out the commission form, you need to wait until I check it. Usually it takes 24-48 hours. If I didn't contact you during this time, it means that I have already received enough requests or for some reason I could not take your commission.
If the form filled out correctly and you provided all references and information needed, I will contact you to confirm it and send you payment invoice. After payment has been sent you will be added to the queue. When it is your turn, we will start more active business communication.
If the information you have provided is insufficient, I will ask you to refill the form.
Once your commission request has been accepted and you make a payment, you can track status of your commission in the queue list.
After you booked your place in the queue and finally waited until I started to work on your commission, an exciting process of approval and editing awaits for you.
There are three main stages in work process in total.
During this stage, I will start visualizing your ideas. The drawing will look like a simple rough sketch. You will not see clear lines and quality image. The sketch stage is a first acquaintance with the drawing. I may not quite understand you correctly or my vision can be different from yours. It is necessary to give the sketch the form that would exactly correspond to your idea about it. Sketch stage is the key stage for making major edits. Try to tell me about all the moments that do not correspond to the original idea in your opinion.
After the sketch is completed, only minor changes will be possible.

Example 1
customer: I would like the character to put her hands together in front from excitement. Also I want to see the stars in her eyes too. Is that possible?me: Yes, no problem.
Example 2
customer: Is it possible to make the ears so that they turned to different sides? And please, add accessories to the character's arms.me: Of course.
Example 3
customer: Now I'm not sure I like this angle of look. Is it possible to see version where the character is turned to the left side instead of front?me: It is possible, but for such a global revision you need to pay extra 20$.
---
After sketches have been approved, I begin to form the final product. I make clear lines and color the work in your colours.
At this stage you will be able to see how the final result will look like. Also, if necessary I can make minor decorative edits. For example, to edit colours, to add or remove some minor details.
At this stage, work on the art is completed.
Example 1
customer: Can you make the hair color a slighty lighter and add more small stars somewhere? I also want her eyes glowing.me: Okay, I can do this.
Example 2
customer: Can you change the left bow to light purple color and make her hair a bit brighter?me: Sure!
Example 3
customer: Is that possible to make her furr color a bit more saturated? And maybe add some purple stripes on the book.me: Of course, no problem.
Once all revisions are completed and the final result is approved, I will send you the files in the required formats and sizes.
We can shake hands and complete our deal.

I hope after reading this, the working process with an artist will become as clear as possible for you. For sure, I approach the execution for each commission individually, but in general terms the process will look like this. If you have any questions, feel free to ask me personally.
My contacts:Twitter: @triseptimo
Email: [email protected]
Instagram: triseptimo_